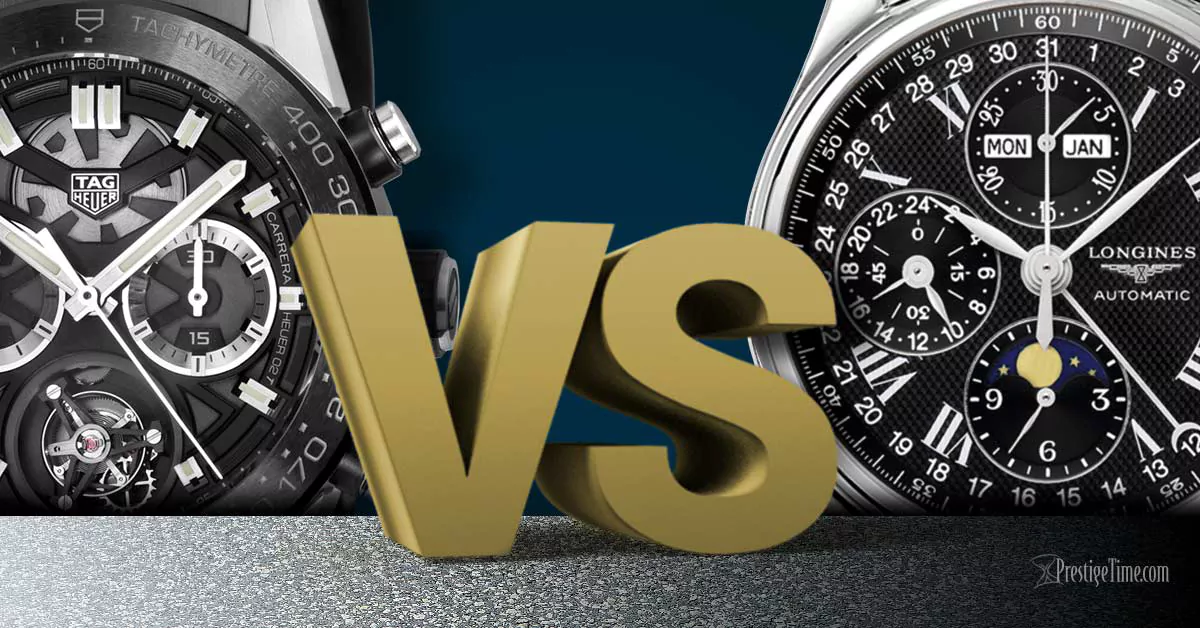 TAG Heuer VS Longines
Tag Heuer and Longines are very comparable watch brands on several levels. But how do they differ from one another and what makes each one special in their own way? Read the comparison to find out.
How does one compare Longines and TAG Heuer, two of the most popular Swiss luxury watch brands when they essentially are so similar?
In this in-depth and detailed comparison of Longines VS TAG Heuer watches we will benchmark these two brands from many perspectives.
We'll provide an answer to all those asking the common question: "What is better, Longines or TAG Heuer?". See the section menu below and click on any of the links to find the answer to many ways in which we can compare them.
Accuracy & Precision
Some of the most precise mechanical watches have a certification from a Swiss chronometric testing facility known as COSC. When the movements that are given to this facility pass all sorts of testing, they then receive a designation of Chronometer.
Both TAG Heuer and Longines produce some watches with this designation although the bulk of their products aren't Chronometers.
That said, the most accurate watches are not mechanical watches at all. To be perfectly direct and honest, the most accurate watches from each of these brands are battery-powered quartz models. But not all quartz watches are created equal. Example: Longines has a Very High Precision Quartz collection.
The most accurate mechanical watches from these two brands are the ones with the designation of Chronometer and come with a COSC certificate.
A good example of a Longines Chronograph is any watch in their Longines Record collection.
A good example of a TAG Heuer Chronometer is Carrera Calibre Heuer 02T Tourbillon Chronograph.
Durability
While you can't blanket coat an answer for either brand in terms of durability, TAG Heuer has a higher percentage of sports models in their product catalog when compare to Longines.
While Longines also has many sports models that have a rugged build very comparable to TAG Heuer, the majority of Longines' watches are classic watches that have a more refined build.
Price Range
Both of these brands have very affordable Swiss watches. Longines has entry-level watches that start at a list price of $725 come at a slightly lower price than TAG Heuer who's entry-level watches start at a list price of $1000.
The higher-end Longines watches go up over $16,000 and TAG Heuer has some watches that have a list price of over $26,000.
Resale Value
While both brands have similar average resale values, TAG Heuer tends to be slightly higher.  Of course, just like durability, you cannot blanket coat a response to "Which brand holds its value best Longines or Tag Heuer?".
Each brand has certain models that are more in demand and will fetch back a higher percentage of your initial cost at the time of resale.
There are also many factors that go into the valuation of a pre-owned timepiece.
Aside from the condition of the watch, how much of the original material you still have including the original paperwork, booklets, box, packaging, tags, stickers etc can make a difference.
Some other important factors include but are not limited to the following:
Do you have the factory warranty card?
Is it the factory warranty still valid?
Is it a rare or flawed model?
Is it an iconic model?
Is it in high-demand?
Craftsmanship
TAG Heuer watches have a great rugged build and even their movements are beautifully designed. Longines, for the most part, makes more refined watches with beautiful hand finishing on their movements.
Tag Heuer uses finishing techniques on their calibers as well but their methods tend to look more sporty and utilitarian.
Water Resistance
Longines has a collection called the Hydroconquest which has added water resistance, most of which offer a water resistance rating of 300m/1000ft which falls short of the best that TAG Heuer can offer.
Water-resistance varies from watch to watch and cannot be painted with a broad brush across an entire brand. That said, TAG Heuer has an excellent diving watch known as the Aquaracer Automatic 500m Calibre 5.
This watch has a water resistance rating of 50m/1650ft. This doesn't mean you should try to dive that deep wearing this watch. See our article on watch water resistance to understand what this rating means.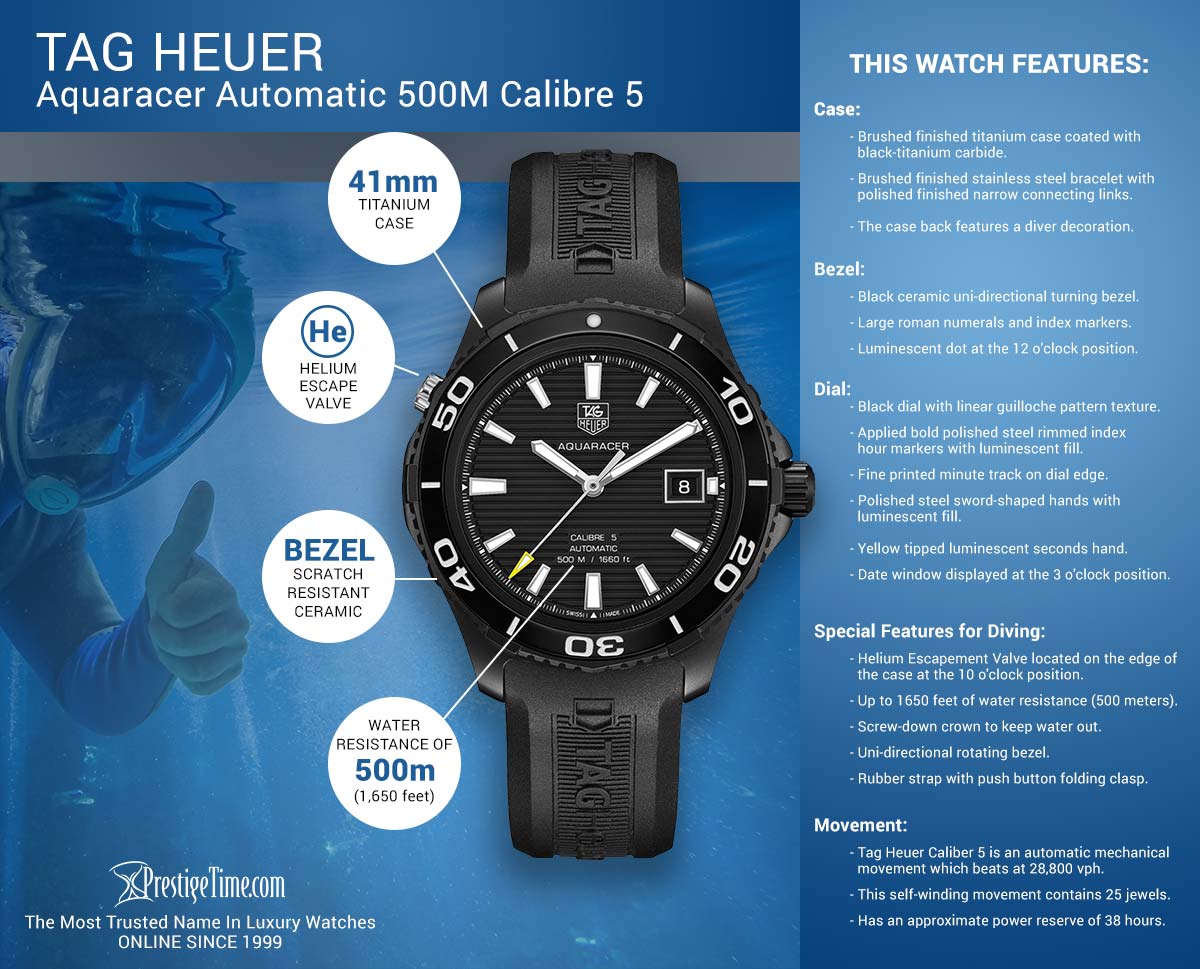 Brand Recognition
Both brands are highly recognized. According to a recent report from an agency called Interbrand, an agency that performs valuations on and rates the most valuable brands from each country, Longines has a higher brand value than TAG Heuer. This can be because Longines is a more established and historic brand dating back to 1880.
TAG Heuer has a more colorful history and had more than one brand name. Uhrenmanufaktur Heuer AG has a history dating back to 1860. However, the later rebranding as TAG Heuer only happened in 1985 when TAG Group bought their way into the business and gained majority ownership in the company which is now owned by fashion conglomerate LVMH.
Longines is the 24th most recognized Swiss brand in the world and the 2nd most recognized Swiss watch brand in the world. Longines has a brand value of 1,089 Million CHF.*
TAG Heuer is the 34th most recognized Swiss brand in the world and the 12th most recognized Swiss watch brand in the world. TAG Heuer has a brand value of 764 Million CHF.*
*Source: Interbrand
Horology
Both brands are rich in watchmaking know-how and manufacture watches with added mechanical functions other than showing you the hours, minutes, and seconds. In watchmaking, an extra feature other than the time-telling functions we just mentioned is called a complication. A good example is a day-date complication which is a function that gives a watch a window to show the day of the week and day of the month.
There are complications and there are high-complications. High complications are obviously more complex are often used to showcase a watchmaker's mastery of their craft.  Good examples are a Perpetual Calendar (pretty self-explanatory) and a Chronograph which provides a stopwatch function. One very prestigious high-complication is called a Tourbillon which is used to compensate for the drag that a mechanical movement experiences while held in different positions and is quite mesmerizing. Watches with multiple complications are known as Grand Complications.
TAG Heuer have high-complication watches such as the Carrera Heuer 02T Tourbillon Chronograph (say that ten times quickly!) which has both a high precision 1-minute tourbillon as well as a column-wheel chronograph which is a stopwatch complication for which TAG Heuer is quite famous with their corporate and brand alignment with competitive motorsports.
Longines also has some complicated watches such as the watches found in the Master Complications collection which sport both a Moonphase and Chronograph complication. Though the TAG we just mentioned seems to (dare I say?) eclipse the Moonphase Chronograph combination in terms of watchmaking know-how.