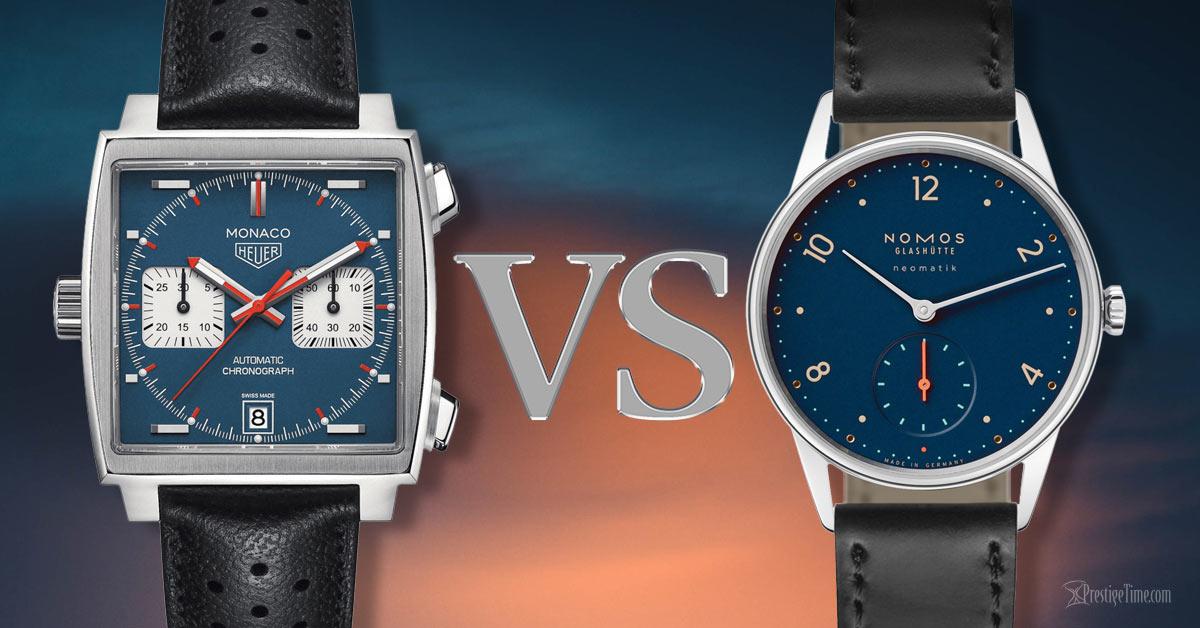 TAG Heuer VS NOMOS: Which is Best?
In this detailed and in-depth comparison of NOMOS VS TAG Heuer watches, we'll compare them on many levels to find out which is best.
We're here to provide an answer to the common question: "What's better, NOMOS or TAG Heuer?".  Click on any of the sections below to get an answer about which is best in that category and from that point of view.
Brand Recognition   |   Horology   |   Precision   |   Durability & Craftsmanship   |   Water Resistance   |   Price   |   Resale Value
Brand Recognition
TAG Heuer is a brand that has been for over a century and a half and has been producing many popular watches for at least a century before NOMOS even came into existence. Nomos Glashutte is a very young company compared to TAG Heuer and produces approximately 20,000 watches per year. To use the name Glashutte in your brand as they do, your watch needs at least 50% of its caliber made in the town of Glashutte which is in the Saxon region of Germany.
Though NOMOS is a hugely popular brand in Germany, and they have made their way into the hearts of many watch aficionados across the pond in North America, TAG Has been popular for significantly longer and has had the time to expand their brand on an international scale in a way that NOMOS hasn't.
TAG Heuer is one of the top 15 most recognizable and valuable brands of Swiss-made watches. They have an estimated brand value of 764 million CHF / swiss francs. They have also expanded their brand by licensing their brand to companies that manufacture eyewear, fashion accessories, and even mobile phones. IN addition to the above, TAG Heuer has placed their brand at the forefront of major events such as Formula 1 Racing and more. The TAG Heuer brand is more established, larger, and more recognizable than Nomos.
*Source: Most Valuable Swiss Brands by Interbrand, an agency that measures brand value.
Horology
TAG Heuer and Nomos are both interesting brands in their own way when it comes to horology. Nomos is one of the few independent watchmakers that can produce up to 95% of its components entirely in-house. This gives them tremendous control over the quality of their production. They produce both manual wind and automatic (self-winding) watches. However, apart from a GMT watch or a World Time watch, they don't manufacture any high complication watches.
TAG Heuer has relied on 3rd party movements for many years and has used ETA movements in some of their most iconic watches. Recently they have released a few in-house movements. Additionally, they have produced some watches with high complications such as the Carrera Calibre Heuer 02 Tourbillon Chronograph which also happens to be a COSC certified Chronometer.
Precision & Accuracy
In the Swiss watchmaking world, precision is measured in seconds per day of deviation. Some of the most precise watches have a Chronometer designation issued by a third-party lab known as COSC who provides the testing for a nominal fee. If the watch achieves an accuracy of no more than -4/+6 seconds per day it is considered a very precise watch and will get the Chronometer designation which the watchmaker can display on the watch.
The catch is that you need to be a Swiss watchmaker to even apply. That's fine and dandy for a Swiss luxury watchmaker such as TAG Heuer which has many watches that are COSC certified. The question is how do you find out how if a German-made watch such as NOMOS Glashutte is highly accurate?
Nomos states on their website that their watches perform with a close approximation to the specs of ISO 3159 standards for chronometers. However later in the same paragraph, they also state that COSC only tests the mechanical movement itself, not the whole watch as it is naturally worn, and many factors can affect the precision of the watch once worn. Factors like how recently it was wound, the position that the watch is in when not worn (at night for example). Even things like temperature can directly impact the accuracy of a watch.  In general, they say that after much rigorous testing for both quality control and performance, they can have an accuracy of one or two minutes per week.
Other German luxury watchmakers such as Glashutte Original use a German third-party testing facility called Wempe to conform with DIN 8319 specs and standards on some of their calibers such as the Glashutte caliber 36. In some ways, these upper-market German brands even exceed COSC's ISO 3159 standards. Nomo, on the other hand, is a lower market brand than Glashutte Original and A Lange & Sohne and doesn't employ these labs to test their watches. Most likely this is to keep costs down.
To summarize: NOMOS neither does third-party lab testing nor do they manufacture the cheaper but more accurate quartz calibers. On the other hand, TAG Heuer, (which has many mechanical watches that are COSC certified Chronometers as well as many battery-powered Quartz watches which are about 10 times more accurate than even the most accurate mechanically powered watches) is considered more accurate than NOMOS watches. Full stop.
Click to view Nomos Watches         Click to view TAG Heuer Watches
Durability & Craftsmanship
Both Nomos and TAG Heuer make great watches and take the extra time to finish the various plates of the mechanical movements. Perhaps it can be said that Nomos takes their finishing and decoration to a different level than TAG Heuer. They combine several different finishing techniques on the various plates and surfaces to make the movement shine and sparkle to a higher degree than TAG.
In terms of durability, in general, NOMOS is a more refined watch that would be categorized as contemporary casual and dress watches. TAG Heuer watches, on the other hand, are in general sportier and bulkier. In most cases, they seem to have a tougher build than NOMOS. Not that you should ever intentionally drop a fine watch but if I had to drop them and bet on which will survive, my money is on a TAG Heuer.
When it comes to material choices for the watch bands, Nomos mainly uses the famous Horween Genuine Shell Cordovan leather for their straps which takes about six months to make according to the Horween Leather Company's website. TAG Heuer, for the most part, uses either alligator leather or calfskin leather.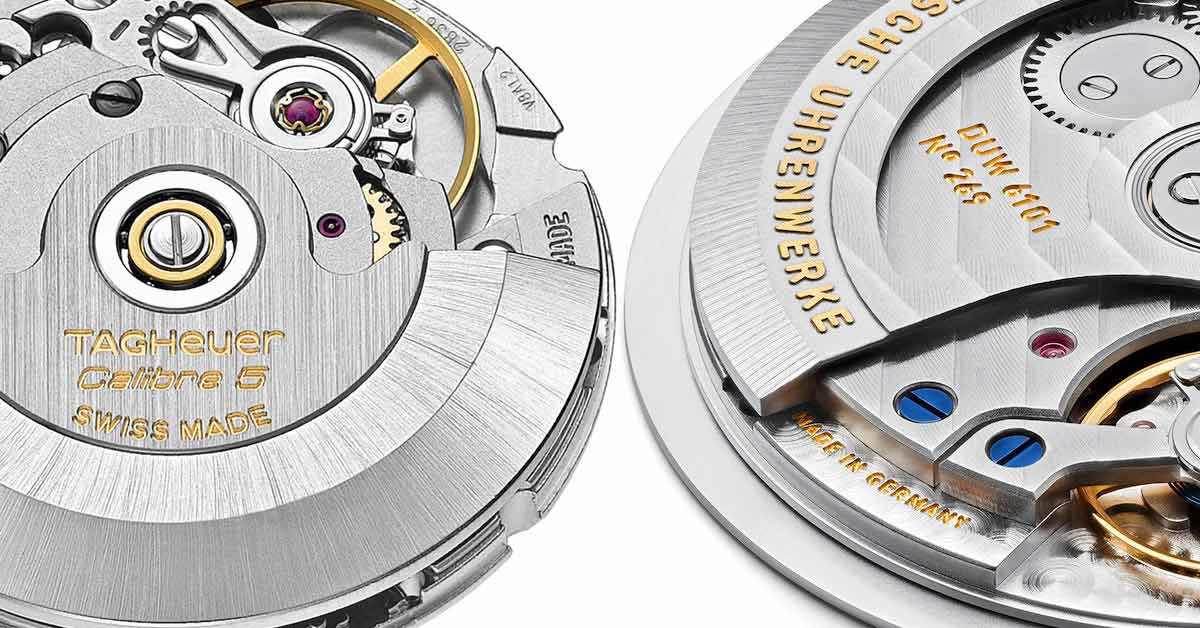 Water Resistance
Most Nomos watches don't offer much water resistance. The average NOMOS watch has a water resistance rating of about 30m/100ft with the exception of their Ahoi collection which offers a screw-down crown and a high water resistance rating of around 200m/600ft which on the safe end should be enough for use while swimming, some snorkeling, or cold showers.
TAG Heuer has the Aquaracer series which offers watches with a higher water resistance rating of 300m/1000ft which is enough for some impact water sports such as boarding, diving, and scuba diving. There have been certain models of the Aquaracer that had a significantly higher water resistance rating of 500m/1650ft and these were found in the Aquaracer Automatic 500m Calibre 5 series which are no longer available.
Tag Heuer Watches                         Nomos Watches
Price
It's not fair to try and compare NOMOS and TAG Heuer in terms of price. Firstly, they are both priced very affordable compared to many other brands. More importantly, TAG Heuer which is according to many a more desirable brand manufactures both mechanical watches that use expensive spring-wound mechanical calibers and they manufacture quartz watches that use low-cost battery-powered quartz movements. Since TAG makes quartz models too, an entry-level TAG Heuer watch will naturally cost less than the least expensive Nomos watch.
So for the sake of being fair about comparing prices, let's compare apples with apples and look at the price of an entry-level automatic men's watch from both brands. The most affordable automatic men's watch from TAG is the TAG Heuer Formula 1 Automatic 43mm and it has a list price of about $1800. The most Affordable NOMOS men's watch is a 38.5mm Nomos Glashutte Club 38 Campus and it has a list price of about $1650. However, because of supply and demand, you will likely see a higher percentage of a discount for TAG Heuer watches than you will for NOMOS when shopping online on sites like ours. So essentially you can get the more expensive one, which is TAG, for around the same price as the NOMOS.
Resale Value
When it comes time to ever trade-in, trade-up, or sell a watch that you owned, resale value is worth considering. Not all brands hold their value the same. However, both brands are close in average resale value with a slight tip in favor of TAG Heuer seeing as they are a more recognized brand. Certain watches from TAG Heuer are more iconic and therefore will have a higher resale value than the rest. In general, the resale value of a watch will depend on many variables such as the condition it's in, the brand, the model itself, if it comes with the original box and papers, and if it's still under warranty.