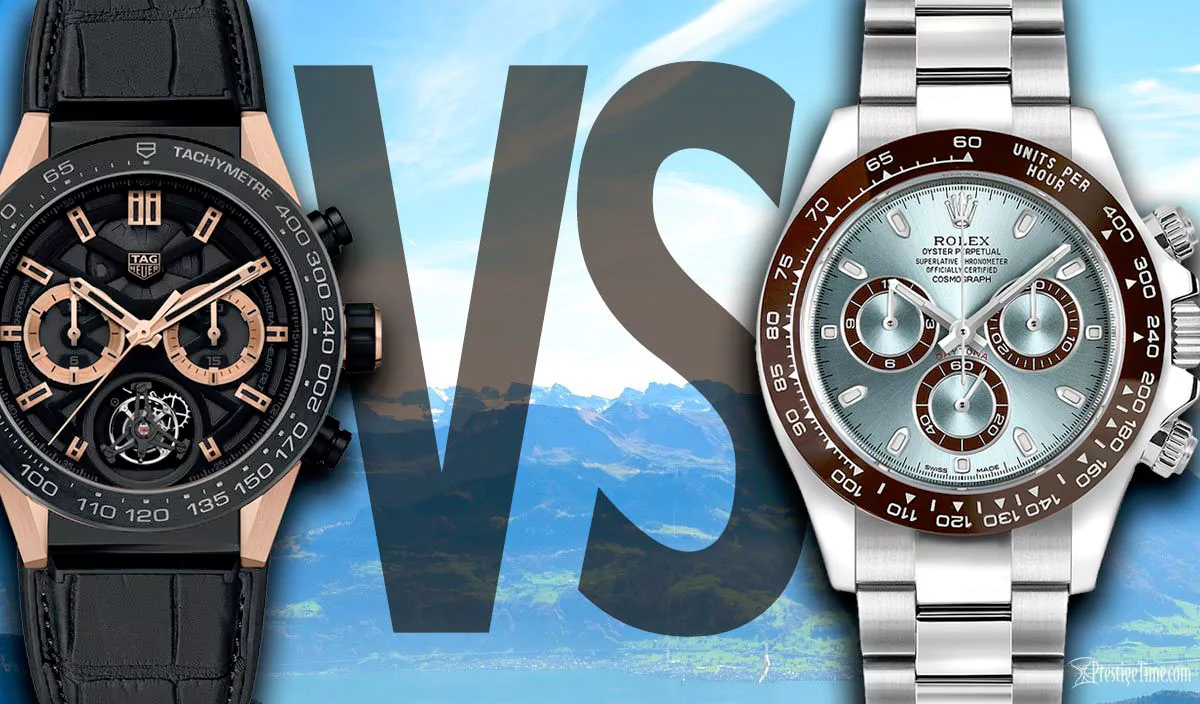 TAG Heuer VS Rolex
Considering watches from TAG Heuer or Rolex? Here's an Eye-Opening Comparison & Brand Review that will explain the differences between TAG and Rolex.
Many of you have most likely heard of Rolex watches before you even discovered TAG Heuer watches. Both are respected brands in the Swiss watch industry and although some would say there is no comparison others may disagree from certain angles.
There are many first-time buyers and curious shoppers that are trying to find out why a Rolex watch is usually more expensive than a TAG Heuer watch. People will ask us things like "Is Rolex better than a TAG Heuer? Is that why?" Well, we'll not only address this question directly but we'll also address just about any other context in which you can find this question.
Are Tag Heuer watches better than Rolex? While some assume that better means it's a watch that has a better watch movement, there are others who are asking about the popularity of the brand itself. Some are asking about the warranty period while others are asking about the accuracy and precision of the watch itself or its resale value. See where this is going? Let's compare Rolex and TAG Heuer side-by-side and address the most common contexts in which this question can be found.
MOVEMENTS / CALIBERS
From a mechanical point of view, many would argue that Rolex has the upper hand seeing as they do all their watch and movements in-house and don't outsource parts like TAG Heuer does on many of their watches nor do they use ébauche movements. These are semi-finished movements/calibers that act as a template of sorts and can be enhanced by watchmakers to accommodate a number of features or complications depending on the watch's needs and the ébauches that are used to create it.
Rolex also made numerous horological innovations including the type of rotors that are found in automatic watches that we use today. They have also taken great strides in combatting electromagnetic interference which is a big enemy of mechanical watches.
Another interesting point to make is that TAG Heuer offers many non-mechanical watches known as Quartz watches which are battery-powered and therefore don't run on springs the way automatic watches and manual wind watches do. In terms of traditional watchmaking, this puts Rolex a grade above since they are more traditionalist and mechanical watches are considered to be higher-end because of the extra work it takes to create their mechanical movements.
ACCURACY & PRECISION
Rolex also has a 3rd party, COSC certifies their movements and gives them the Chronometer designation for its accuracy and precision. Getting a COSC certificate is pricey and because Rolex prices are more up-market, they can easily absorb these added expenses into their pricing strategy.
TAG Heuer, on the other end also has very accurate mechanical watches and their president even claimed that they can easily compare with a COSC Chronometer but to pass the savings on to their customers, they don't test their movements with COSC and avoid the extra expense. It's also important to note that TAG Heuer also has many quartz models that are battery-powered movements which have higher accuracy than mechanical calibers.
One thing that Rolex does that adds value to their watch in terms of precision and accuracy is that after they receive a COSC certificate, they take the movement and place it inside a watch case and give it further testing in-house. A COSC certificate states that the movement is a Chronometer and was tested to have an accuracy of within -4/+6 seconds per day however, after Rolex's in-house testing the watches have a new designation of Superlative Chronometer (which they also print on the dial of the watch) and this means they have an enhanced accuracy of -2/+2 seconds per day.
BRAND RECOGNITION
Let's look at it from the brand perspective and see how they position against each other in the overall Swiss watch marketplace. There is a brand consultancy called Interbrand that puts out an annual list of the top 50 most popular Swiss brands in the world* and a large percentage of these brands are watchmakers. Let's see how the Swiss watchmakers rank on this list and how they compare to one another in terms of brand value and recognition.
*Source: Most Valuable Swiss Brands by Interbrand, an agency that measures brand value.
TAG HEUER
TAG Heuer is the 12th most recognized watch brand from Switzerland and in 2016 had an estimated brand value of 76 Million CHF. This makes them the 34th most popular and valuable Swiss brand in the top 50.
ROLEX
Rolex is the #1 most recognized watch brand in the world. They are also one of the most valuable Swiss brands weighing in at #3 of the top 50 Swiss brands with an estimated brand value of 7.387 Billion CHF.
Source: Interbrand, a division of Omnicom Group Inc. - bestswissbrands.com
What does brand value mean? Well, say you bought a bottle of Coca-Cola brand cola and poured its contents into some generic store brand bottle. Would you be able to sell the same product under a different bottle at the same price as Coca-Cola? The brand itself adds tremendous value to a product. I am in no way implying that a TAG Heuer watch is the same as a Rolex watch on the inside, on the contrary, they are very different on the inside. It's just to provide insight as to why certain things about Rolex are the way they are. For example, things like brand recognition, brand recall, resale value, etc. 
RESALE VALUE
People often ask us: "What's a better investment watch, a TAG Heuer or a Rolex?"
Neither one is. A watch is not an investment such as a mutual fund or even real estate. There is no point in looking at a luxury watch that way, it's simply not true. A watch can be compared to a car in terms of investments, the moment you use it even once, it already dropped in value. Furthermore, people think of it as an asset but an asset actually generates money such as capital gains from SEC-registered securities or rental income from a property.
That's not to say that there have never been certain watches that have appreciated in value for any number of reasons but the majority of the time they don't. They do however hold a certain percentage of their original value. And this is one of the areas where Rolex is king. There is simply no other brand of watches that holds its value like Rolex.
There are several variables at play that contribute to the resale value such as the condition the watch is in. Does it come in its original box? Does it include any original documents & warranty card? Is it still within the warranty period? Is it a limited edition, a special edition or a numbered edition? Did some hot-shot celebrity wear it in a blockbuster movie such as a James Bond film and all of a sudden make it super famous?  You get the idea.

WARRANTY PERIODS
TAG HEUER
TAG Heuer offers a 2 year warranty period on their watches. This is a pretty standard warranty period compared to most brands in the industry.
ROLEX
Before January 2015, Rolex offered a 2 year warranty period. After Jan 2015 it became a 5-year warranty. At the time, that was possibly the longest warranty period in the industry. Today more luxury watchmakers are offering extended warranty periods. However, the average duration is still two years for most watch companies.
"Should I buy a TAG Heuer or a Rolex?"
We also get this question a lot. With all the things that are different about each of these brands, it's usually about gauging the price of a watch against the features that it offers and finding out what about the watch is important to you.
Some want to pass it on as a family heirloom one day and therefore are looking for a watch with the better resale value, in which case a Rolex is probably best since they hold their value better than TAG Heuer.
Some may want a watch with a high complication such as a Tourbillon watch, in which case TAG Heuer just came out with possibly the most affordable high complication tourbillon watch on the market known as the Carrera Heuer 02T which is a stunning watch and affordably priced for the complicated mechanical featured that it offers.
Some might be looking for an amazing diver's watch in which case the Rolex Sea-Dweller or the more classic Submariner is probably a great fit because TAG Heuer's not exactly known for their excellent dive watches as much as they are for their Chronographs such as the Calibre Heuer 01, for example.
However, they do have a few diver watches in their Aquaracer series. Check out how the TAG Heuer Aquaracer compares to the Rolex Submariner.
If you enjoyed this comparison and feel that others would enjoy it too, please like and share it. Thanks!