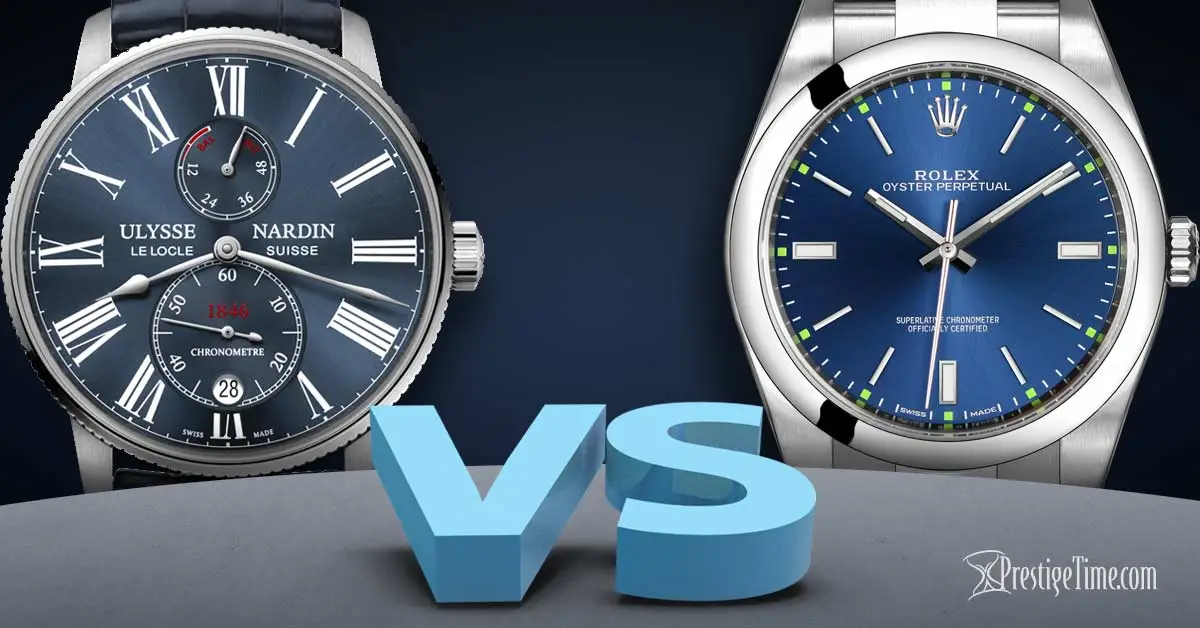 Ulysse Nardin VS Rolex
Once in a while, we are asked questions like: "What's better, a Ulysse Nardin or a Rolex watch?". How can you compare two of the incomparable timepiece brands?
In this side-by-side comparison and review of Ulysse Nardin and Rolex, we will try to answer the most common contexts in which this question is asked.
In-Depth Comparison
Let's begin by listing a few of the many contexts in which "Which is best?" can easily be meant:
For your convenience, we'll also list the general question categories. Click on any of the links below to jump to the section with questions discussing:
 BRANDS
Which is a more valuable and more popular brand Rolex or Ulysse Nardin?
According to a report by Interbrand, Rolex has a brand value estimated at 7,387 million CHF (Swiss Francs) and is the 3rd most popular Swiss brand in the world. Nescafe and Nestle are the only two that surpass them. (Almost everyone consumes coffee and chocolate but not everyone has a Rolex.)
The above report covered the 50 most popular Swiss brands, and many of these companies include watch brands but wasn't a report exclusively about Swiss watchmakers per se. A report from the year before Interbrand's report was published covered just the world's top 20 Swiss watch brands.  This Swiss watch brand report was published by a company called BV4, a firm of brand valuation experts.
In this report, Rolex is once again the most popular and valuable brand on the market, and Ulysse Nardin is not found in the top 20. Mind you, that doesn't change the fact that they are a master-watchmaker of international acclaim and manufactures incredibly well-made watches. They just fell short in a brand popularity contest of sorts and lots of that has to do with their marketing & advertising. 
This is one of those cases where the younger brand (Rolex) has the upper hand. While typically in watchmaking, the most respected watchmakers are usually very old very established brands such as Vacheron Constantin and Audemars Piguet, for example. Ulysse Nardin is over 50 years older than Rolex yet, Rolex has built an incredibly valuable brand as a watchmaker.
 CRAFTSMANSHIP
Which is more durable Ulysse Nardin or Rolex watches?
Ulysse Nardin has fine watches. They provide ample durability, and they are built well and strong but how would they stand up against models with Rolex's patented Paraflex® shock absorbers which are found in many of their watches? Or how the bezels stand against Rolex's proprietary Cerachrom® bezel inserts which are highly scratch resistant and impervious to the discoloration associated with prolonged UV ray exposure?
Rolex has invested tremendous resources into improving their timepieces and their products and style are mostly meant for day to day use. They design and sell many watches made for people with active lifestyles.  Many luxury watch collectors who own many fine watches including those from Ulysse Nardin also own a Rolex which they will use as their go-to every day "Beater" watch, a watch that can be worn for a long time.
Ulysse Nardin, on the other hand, has beautifully finished movements and they put a lot of work into the craftsmanship and aesthetics of their movements, and in terms of appearance, they are often more pleasing to the eye. In most cases,  several different finishing techniques are used on their calibers and the various plates within to allow them to really shine like polished gold. 
 WATER RESISTANCE
Which has better water resistance Rolex or Ulysse Nardin?
Both Ulysse Nardin and Rolex have excellent diver watches equipped with enough water resistance for diving enthusiasts, enthusiasts being the operative word here, meaning under certain underwater conditions only. The Ulysse Nardin Marine Diver, for example, has a water resistance rating of up to 300m/1000ft which is adequate for impact sports such as board diving, scuba diving, snorkeling, and swimming.
What about diving professionals? What about some deep-sea diving? What if I want to touch the ocean bed at its deepest point known to man? Between Rolex and Ulysse Nardin, who has the best water-resistant watch (period)? Rolex has. While Ulysse Nardin does have one watch that is particularly better than their standard diving watches, this is, of course, the Ulysse Nardin Deep Dive 46mm which has 1000m/3300ft of water resistance the Rolex Deepsea and has 3900m/12800ft of water resistance. That's nearly 4 times the water resistance compared to the most water-resistant Ulysse Nardin watch.
 ACCURACY & PRECISION
Which is more accurate, a Rolex or Ulysse Nardin watch?
Let's start with a primer on how accuracy is graded in the watch industry. At the moment the highest 3rd party designation for accuracy is the Chronometer designation which is issued by COSC. This designation means that your mechanical movement is precise within -4/+6 seconds per day.
Ulysse Nardin is famous for their Marine Chronometers which throughout history allowed ship captains to navigate the great waters of this earth using charts that required very precise maneuvers that needed to be timed to perfection.
So, in terms of a question like "Are all Ulysse Nardin watches COSC certified Chronometers?" Most of their collections of men's watches are such as the Ulysse Nardin Marine Chronometer, GMT Perpetual Calendars, even many of the watches in the Maxi Marine Diver collection. There are few exceptions though it's always good to check that it comes with a COSC certificate if accuracy is a concern for you.
Rolex, on the other hand, has taken their precision testing a step beyond the standard COSC certificate. After receiving their movement back from COSC, they place the now COSC certified Rolex calibers in a case and put them through another series of tests which regulates them to even higher accuracy of -2/+2 seconds per day at which point they give their own designation of Superlative Chronometer. All Rolex watches made these days (except for the Cellini collection) have this higher level of accuracy.
 HOROLOGY
Who has more complicated watches, Ulysse Nardin or Rolex?
Ulysse Nardin and Rolex are both very skilled watchmakers. However, when it comes to what the industry calls 'Haute Horlogerie' or high horology …simply put: watches with high complications, Rolex falls short.
Ulysse Nardin, on the other hand, has plenty of watches with high complications such as a Tourbillon, Perpetual Calendar watch, or even a mechanical Alarm complication. They can be found in the following collections:
 PRICING & VALUE
What's more affordable, a Ulysse Nardin watch or a Rolex?
In terms of their most affordable watches and considering the manufacturer's suggested retail price, the cheapest Rolex is the Oyster Perpetual 39mm which starts at $5,700 according to the Rolex price list and comes on a stainless-steel bracelet. Rolex also manufactures a lower market brand called Tudor that share a similar style, have a lower price-point, and more availability.
The most affordable Ulysse Nardin watch is the Lady Classico at a list price of $6,800 and for the men, there is the Marine Chronometer Torpilleur both with a list price of $6,900. Both watches come on a leather strap. A Ulysse Nardin Marine Chronometer Torpilleur on a steel bracelet would run you about another $700.
Watches from both of these brands are available for you to buy on our site.
What's more expensive, a Rolex or a Ulysse Nardin watch?
On the higher end of each brand, you'll find some expensive watches such as diamond-encrusted Ulysse Nardin tourbillon watches for over $1,000,000, and for Rolex fans, you'll find Platinum Rolexes with Diamond Bezels in the Daytona collection with 6-figure price tags.
 RESALE VALUE
Which holds its value more, a Ulysse Nardin or a Rolex?
Typically, a Rolex has a higher average resale value, more than any other brand in the business for that matter. There is more demand for a Rolex since it is a more widely known brand and they produce a very large quantity of watches each year. Their estimated output is estimated at about 2,000 watches per day.
Of course, there are always many variables that get considered with the valuation of a pre-owned watch. The things that are considered include and are not limited to the following:
the model itself (think limited edition, rare production flaws, etc.)
the demand for a specific model (such as Rolex submersibles)
if it includes original papers and boxes, warranty cards, etc.
if it is still covered under the manufacturer's warranty
the condition the watch is in
if it was ever serviced and by whom it was serviced
the wear and tear on the straps
Many people say they want to "invest" in a luxury watch. It is not recommended to ever look at a fine watch as an investment. Watches are not the kinds of assets that usually appreciate. They do maintain a certain amount of their tangible value but should not be compared to any type of traditional security or investment.
They are like a vehicle in the sense that as soon as you use it, you can already expect it to lose a percentage of its purchase value. Yes, there are watches that have appreciated in value and have sometimes even more than doubled in value. However, these are few and far between and you should never count on this happening.
Have more questions? Read our detailed FAQ and analysis of both Ulysse Nardin and Rolex. 
Did you enjoy this comparison? Share it on your social media and feel free to like and follow us on Facebook and Instagram! Thanks!