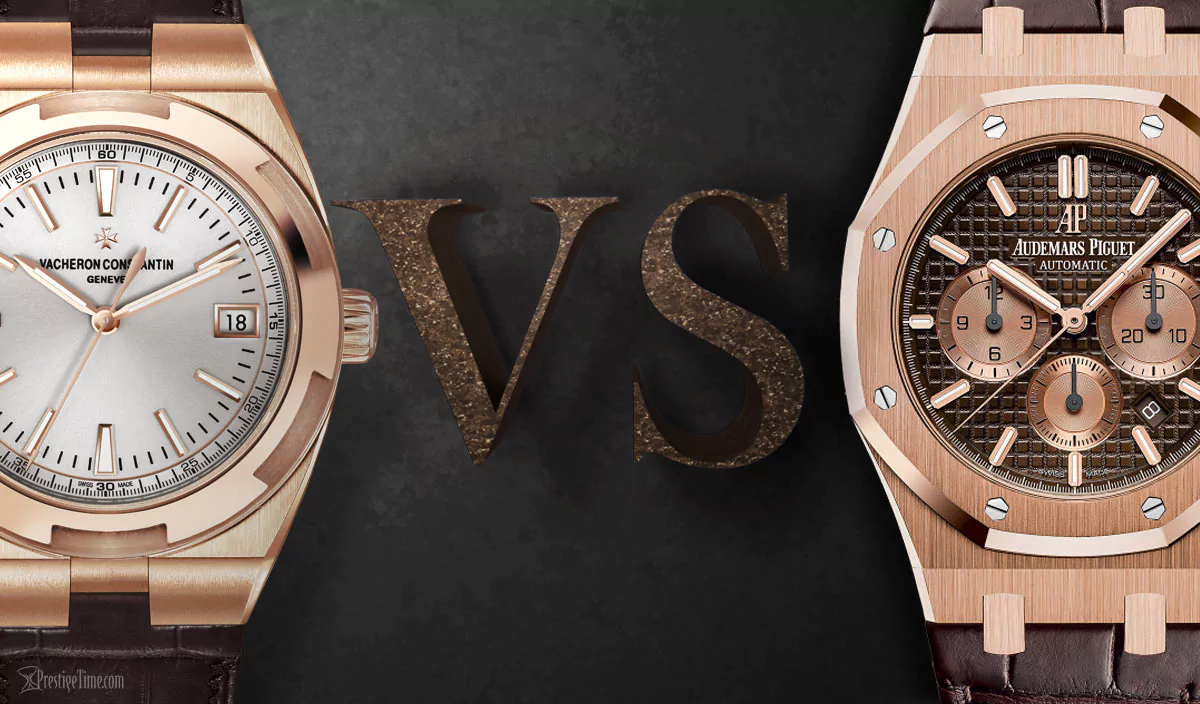 Vacheron Constantin VS Audemars Piguet
We've done a few comparisons of the "Holy Trinity" watch brands in the past year and it's time for the final chapter to complete the trifecta.
In this comparison, we will compare two of the "Big 3" Swiss watchmakers. We'll be starting this detailed brand comparison with the eldest of the two brands, Vacheron Constantin.
Vacheron Constantin Watches
Vacheron is known to do some pretty impressive one-of-a-kind commission pieces such as the reference 57260 that they created for King Farouk of Egypt...and they have been doing this literally for over a century. As the oldest running Swiss watchmaker to date (since 1755), certain expectations are made of such an experienced brand. Time and time again, these expectations are met with unbelievably inventive timepieces.
Most people in the world would laugh at some of the features this watchmaker was asked to create, yet to this high caliber master watchmaker, it is just another challenge to overcome, another checkmark on the watchmaking bucket list.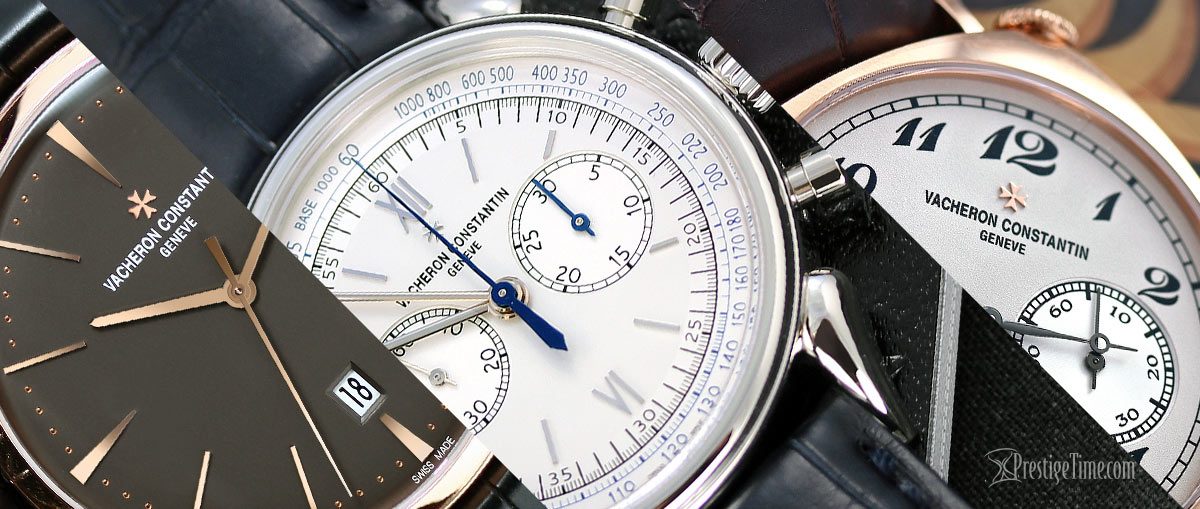 One of the reasons why people buy Vacheron watches is because although it is one of the most exclusive and prestigious watch brands in the world, it's a much less recognizable brand to the average layman compared to a mainstream brand like Rolex. According to an agency that benchmarks Swiss brands, Interbrand, Vacheron Constantin's brand value was estimated in 2016 to be at 809,000,000 CHF.
Vacheron Constantin ranks 31st in the top 50 Swiss brands
making Vacheron Constantin the 8th most recognized Swiss watch brand worldwide.
Audemars Piguet Watches
Audemars Piguet has been a luxury Swiss watchmaker since 1875 (for over 140 years). Their brand recognition is primarily amongst watch collectors and horological connoisseurs. Their brand value is currently estimated at 961 million CHF.
They are the 7th most recognized Swiss watch brand in the world and the 26th most recognized Swiss brand in general.
AP, as they are affectionately known, has many iconic watches including the famous Royal Oak series which was designed by the legendary Gerald Genta, the same Swiss genius who designed the Patek Philippe Nautilus, the Omega Constellation, and the BVLGARI Octo, to name a few iconic watches of his.

Other popular sports watch series include the Royal Oak Offshore diving watches, most with a round date window and of course, their unique waffle patterned grande tapisserie dial. The classic looking Jules Audemars collection includes chronographs, grand complications, and of course, their oval-shaped Millenary collection. Their watches are available on a metal bracelet, and leather band, or, in some cases, a rubber strap. 
Prices
Which brand is more affordable, AP, or Vacheron Constantin?
When your cheapest watch from either brand comes with a 5-figure price tag you can't exactly call either one of these brands "affordable" (in the traditional sense of the word). However, that said, you can pick up a 33mm AP Royal Oak Quartz in a stainless steel case for full list price at $11,500 which is slightly more affordable than the cheapest Vacheron Constantin watch which is the 30mm Traditionnelle Quartz in an 18kt white gold case at a retail price of $13,000. These, of course, have a much smaller case size than timepieces in their popular Overseas collection.
Mind you, one is steel and the other is gold.
Resale Value
Which brand has a better resell value, Audemars Piguet or Vacheron Constantin?
The answer used to be a pretty even tie but I'm predicting that AP will have slightly more now that most recently AP started shutting down many of their authorized dealers and are trying to make their brand more exclusive. Eventually, their plan is that all new AP watches will only be sold through their own Audemars Piguet boutiques. But they are probably still and even tie on many models. Is Vacheron Constantin a good investment? Watches are not investments that are designed to increase in value. They are consumer products that are designed to depreciate in value. 
One of the things that affect the retail prices and resell value is the rarity of watches and the exclusivity of the brand. For now, it's pretty evenly matched but for the immediate future, I'm leaning towards AP for the reasons mentioned here. Because of their prestige, both watchmakers hold their resale value pretty well on the preowned market. 
Popularity
Which brand is more popular, Vacheron Constantin or Audemars Piguet?
As with most things, when A-list celebrities and pop-culture gets involved, that's when a brand can go from hiding in the shadows of exclusivity to becoming a household name. AP experienced a huge rise in brand awareness when their brand was mentioned by name in lyrics of celebrity rappers such as Lil Wayne, Rick Ross, Chris Brown, and of course, Jay-Z, who not only owns quite a few top-shelf Audemars Piguet watches but even has his own Audemars Piguet Jay-Z limited edition watch that has a unique dial design with just the 10 o'clock numeral set in round brilliant cut diamonds.
This kind of name-dropping can take your brand awareness out of an exclusive club to a more inclusive luxury brand for the masses and not just fortune 500 CEO's, heads of state, leaders of industry who were traditionally the go-to patrons for this brand.
As for the big question: "Is Audemars Piguet more Popular than Vacheron Constantin?" Yes. It is a more recognized brand. That doesn't mean they are better at what they do though. AP makes excellent watches too, many with high complications such as tourbillons and perpetual calendars. So why isn't Vacheron Constantin as popular of a luxury watch brand as Audemars Piguet?
Why is Vacheron Constantin so expensive? Vacheron Constantin is very a highly regarded and respected watch brand although they didn't become an iconic watch in hip-hop culture the way AP watches did. Vacheron Constantin watches are better known in watch collecting circles, with luxury watch enthusiasts and the horology community. Horologists rave about Vacheron's most recent noteworthy achievement which was the creation of the world's most complicated watch. (That should give you some context as to exactly who in the world of watchmaking we're dealing with here).
Conclusion
In conclusion, both brands are highly popular and some of the most respected names in watchmaking. You would need to see which watch you feel more comfortable with. Many recommend looking for a watch that fulfills your needs. Compare features before comparing brands, then decide on the brand next. Then again there are many people who are more low-key and like a fancy watch that can "fly under the radar" while others are just looking for some new wrist candy. In this comparison, we compared 2 out of the 3 in the holy trinity of high-end watchmakers. But you still may ask: "Is Vacheron Better than Patek?" (the third member of the 'Big Three' Click here to find out.
So the real question after reading this is: Which is the best brand for you?
OR
If you enjoyed this comparison and feel that others would enjoy it too, please like and share it on social media and feel free to follow us on Facebook and Instagram. Thanks!