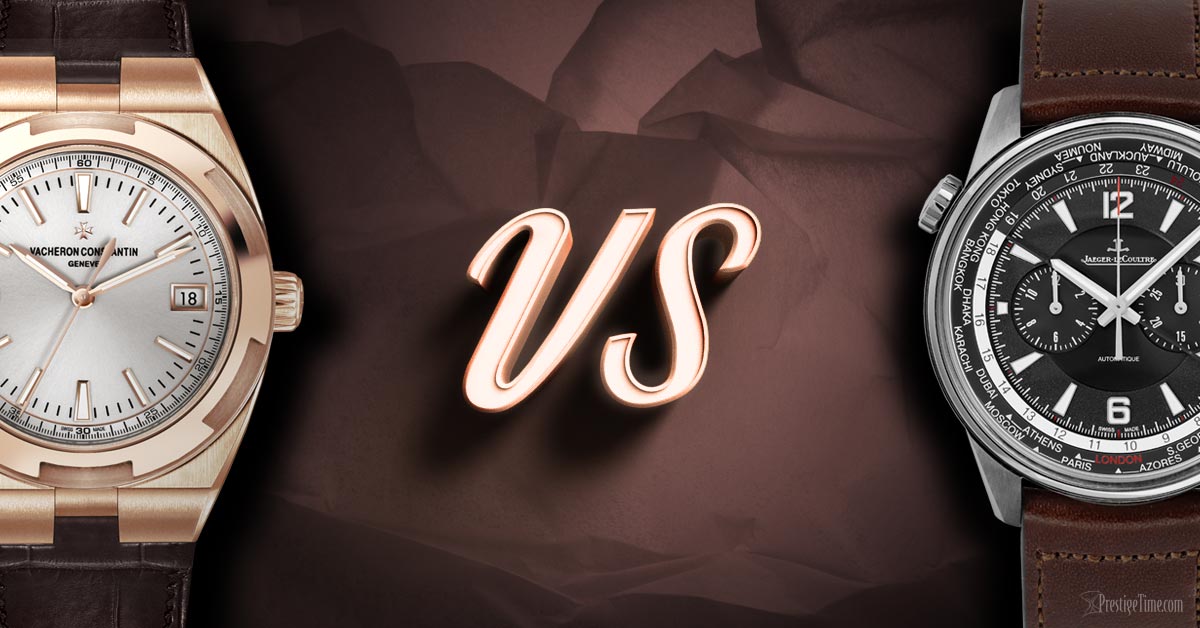 Vacheron Constantin VS Jaeger LeCoultre
These two watchmakers are often the object of remark in luxury watch collecting circles,  but which would win in a head-to-head comparison of JLC and Vacheron? Read more to find out.
  Brand Prestige  |  Brand Popularity  |  Resale Value  |  Price  |  Horology
BRAND PRESTIGE & NOTEWORTHY ACHIEVEMENTS
Vacheron Constantin was founded in 1755 and is to this day, the oldest Swiss watch brand in history that has been continuously in business. Over the past 300 years or so, their timepieces have been owned and worn by titans of industry, royalty, and the societal elite. Most recently the company has also taken the title for creating the most complicated watch in the world. They also constitute one 3rd of the "big 3" also known as the holy trinity in the watchmaking market. 
Jaeger LeCoultre (also affectionately known as JLC) is a watchmaker that started off as a component and movement manufacturer. They supplied some of the best brands in the business with watch parts and mechanical calibers, including Vacheron Constantin. Many horologists and watchmaking enthusiasts would call Jaeger LeCoultre 'a watchmaker's watchmaker' for they are known to not only have the mechanical know-how to make mechanically complicated watches entirely in-house but also have what is arguably the most rigorous control testing in the business, for any timepiece, and is known as the 1000-hour control. 
Is Jaeger-LeCoultre a luxury watch? Absolutely, and a strong case can be made that they are a great, and well-respected luxury watchmaker by watch enthusiasts, and watchmakers alike. 
Is Jaeger-LeCoultre better than Vacheron Constantin? Not exactly. While JLC is a respected luxury watch brand, Vacheron is still held to a higher degree and a higher standard than JLC by most watch connoisseurs. 
BRAND POPULARITY
Vacheron Constantin is the 15th most recognized and valuable Swiss watch brand in the world. Though they are not as high up on the list as the likes of Patek Philippe or Rolex, they are still a very recognized brand with tremendous brand prestige. What makes Vacheron appealing is the fact that it is not a Rolex or a Patek Philippe.
It is a less recognizable brand to the average layman which is actually one of the reasons why people buy them. Vacheron Constantin's brand value was estimated in 2016 to be at 809,000,000 CHF according to Interbrand, an agency that benchmarks Swiss brands to determine the top 50.
Jaeger LeCoultre is the 36th most recognized Swiss brand in the world and in terms of most recognized Swiss watch brands, JLC is the 12th most recognized Swiss watch brand with a brand value of about 673 million CHF.
*Source: Most Valuable Swiss Brands by Interbrand.
RESALE VALUE
Is Vacheron Constantin a good investment? For the record, a watch, like any consumer product, should not ever be looked at as any form of investment. Investments are designed to increase in value whereas a consumer product, (post sale) is designed to decrease in value once used. That said, there are some brands that on average hold a higher percentage of their original value compared to others when purchased in second-hand condition. There are also certain watches from any brand that would have a higher than average resale value such as certain limited edition watches, for example. 
Does Vacheron Constantin hold value? Yes, it holds its value very well compared to most brands. However, on average, Rolex and Patek Philippe both will usually fetch a higher percentage of your principal investment. Of course, when it comes to resale value, you cannot paint a brand with a broad brush.
It will always depend on the watch itself, the condition it's in, if it is still under warranty, or if it has all the original documents and other variables. The same is true for JLC. Certain models will always fetch more of a percentage of their original value simply because they are rarer or more in demand.
PRICE
A popular question that people ask us is "What is the cheapest Vacheron Constantin?". Firstly, 'cheap' is no way to describe a Vacheron, but the most affordable new model is a ladies' model called the 1972 Cambree. It sells at an MSRP of around $13,600. The least expensive Vacheron Constantine watch for men is a model from the Patrimony Grande Taille 40mm collection. It retails at around $19,200, however, you can save up to 40% on select Vacheron Constantin watches on our site.
JLC watches start at a lower price point and for a ladies model, you would be looking at an MSRP of $4,500 for an entry-level quartz-powered Reverso model. For men, there is the JLC Polaris that has a retail price of around $7,250. You can, however, find a JLC watch at lower prices on our site.
JLC COLLECTIONS
HOROLOGY
Naturally, with high horology/high complications comes a high price and it should come as no surprise that the watches in the high-end price section of this article are not necessarily sports watches or gold watches but are more often than not, high quality and highly complicated watches.
Both JLC and Vacheron Constantin create high horology watches. Vacheron is more famous for it since they have created the most complicated watch ever mentioned earlier that featured some major mechanical marvels and has 57 complications and was estimated to be worth around 8 million dollars. That comes out to over $143,000 per complication! This was not a wristwatch but rather, a double-dialed extra large pocket watch. However, it was not necessarily the size that you would be able to fit into your pocket. 
JLC had the Hybris Mechanica collection which contains their top-shelf watches with all sorts of combinations of horological complications such as minute repeaters, perpetual calendars, tourbillons, Gyrotourbillons, Spherotourbillons, and so on. Most noteworthy is the Hybris Mechanica à Grande Sonnerie; a wristwatch that featured 27 complications and contained over 1,300 miniaturized parts.
Most notably, JLC is known for its innovative and iconic Reverso series. This collection featured watches that had a reversible dial. Most recently, they developed a double-dial version of the Reverso called the Reverso Tribute Duoface.
VACHERON CONSTANTIN COLLECTIONS