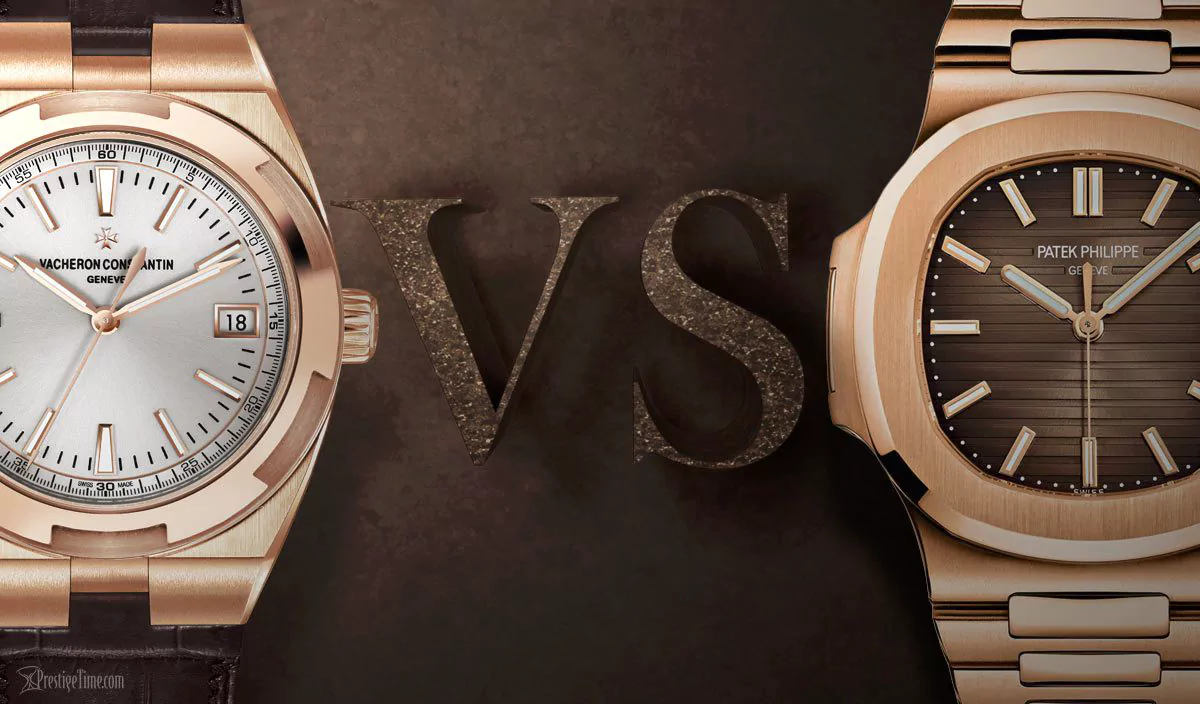 Vacheron Constantin VS Patek Philippe
Witness a rare horological phenomenon where two-thirds of the "holy trinity" of watchmaking, Vacheron Constantin and Patek Philippe go head-to-head in one rear-kicking luxury watch brand comparison. Read more to find out which is best.
We are often asked questions like: "Is Vacheron better than Patek?"
The question can be loaded with all sorts of different contexts so there are essentially many answers.
As an easy way to answer them all in one epic comparison article, we put both brands side by side and compared them in many ways. As watchmakers, as a company, as a brand, we compared resale value and more. So jump in and get a good glimpse into just how Vacheron and Patek compare against one another.
Patek Philippe
NOTEWORTHY ACHIEVEMENTS: In a long history of over 178 years, Patek Philippe has been one of the most respected and revered traditional watchmakers in the industry. And why wouldn't they be? With only part of the reason being great marketing, it would be a big disservice if we failed to mention brag-worthy achievements such as inventing the wristwatch, for example, creating the Patek Philippe Calibre 89 which is one of the world's most complicated wristwatches with 33 complications. Patek Philippe has also brought numerous innovations challenging the watchmaking industry with its ingenuity.
BRAND PRESTIGE: There's no arguing that a Patek Philippe watch is bringing a lot of status to the table and is respected everywhere. In fact, the Patek Philippe brand is the 3rd most recognized Swiss watch brand in the world with only more affordable mainstream brands such as Rolex and Omega ahead of them. So, where would you place Patek Philippe in the grander scheme of things?
There are many that would make a case to boldly declare that Patek Philippe is the "Rolls Royce" of Swiss watches or even call it a "Rich Man's Rolex". Patek Philippe's brand value was estimated in 2016 to be at 1,885,000,000 CHF according to Interbrand an agency that measures brand value and recognition of Switzerland's top 50 brands.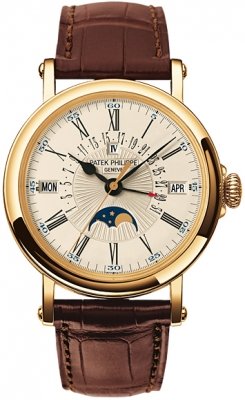 WATCH COLLECTIONS: They make highly prestigious watches and are known in the watch collecting communities as one of the "Big Three" watchmakers which are comprised of Patek Philippe, AP, and Vacheron Constantin….and not necessarily in that particular order.
CLIENTELE: Since 1839, Patek Philippe has built an empire of super high-end watches that are worn by royalty, dignitaries, Fortune 500 CEOs and top C-Suite executives, millionaires, and billionaires the world over. There is a reason that the brand has such terrific prestige. It has lots to do with their ingenuity and innovations but also has a lot to do with how they solidified their brand's position at the top of the luxury watch market.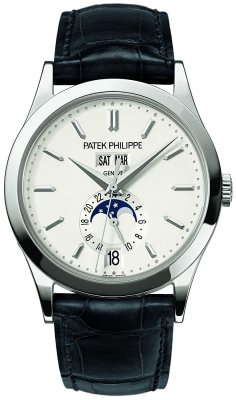 BRAND MESSAGE: Their famous slogan from their iconic ad campaign goes: "You never actually own a Patek Philippe. You merely look after it for the next generation."  An ad campaign that they've been running for over 20 years, and for good reasons too. As weird as it sounds, their ads don't even advertise watches, they advertise family heirlooms that retain value. Patek Philippe watches can actually transfer value and oftentimes appreciate in value over generations.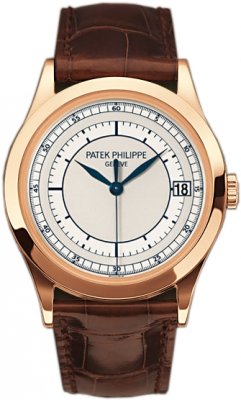 RESALE VALUE: That being said, let's discuss their resell value.  Other than Rolex which holds the highest resale value in the industry, which can be attributed to the fact that Rolex holds the #1 position in brand value and brand recall compared to any other Swiss watchmaker, but I digress.
Patek Philippe has one of the highest resell values among its competitors. So there is much truth to their campaign slogan, it's an accurate description of their products. Patek Philippe arguably owns the top-tier of high-horology.
Vacheron Constantin
NOTEWORTHY ACHIEVEMENTS: Vacheron Constantin was founded in 1755 and is to this day, the oldest Swiss watch brand that has been continuously in business. They had an 84-year head start over Patek Philippe which can give you an idea of just how old they are. That's about 4 generations of watchmaking older than Patek and a lot can happen over a span of 84 years in the world of watchmaking. Recently they have taken the title for creating the most complicated watch in the world.
BRAND PRESTIGE: Vacheron Constantin is the 15th most recognized and valuable Swiss watch brand in the world. Though they are not as high up on the list as the likes of Patek Philippe or Rolex, they are still a very recognized brand with tremendous brand prestige. What makes Vacheron appealing is the fact that it's not a Rolex or a Patek Philippe.
It's a less recognizable brand to the average layman which is actually one of the reasons why people buy them. Vacheron Constantin's brand value was estimated in 2016 to be at 809,000,000 CHF (about 1/2 of that of Patek Philippe) according to Interbrand, an agency that benchmarks Swiss brands to determine the top 50.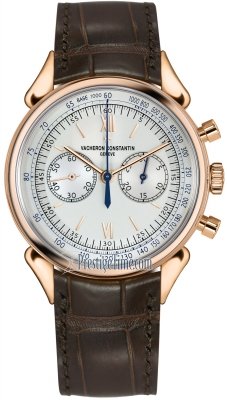 WATCH COLLECTIONS: They make unbelievable watches and in the watch collecting communities that are considered one of the 'Trinity' of watchmakers which are comprised of Patek Philippe, AP, and Vacheron Constantin….and not necessarily in that particular order.
CLIENTELE:  For over 260 years, Vacheron Constantin had impressed watch aficionados around the world and has attracted many high-profile customers which include King Farouk of Egypt and many others. The people that tend to purchase a Vacheron watch are usually the types that have a high appreciation for impeccably crafted complicated mechanical watches but also like to fly-below-the-radar when wearing one.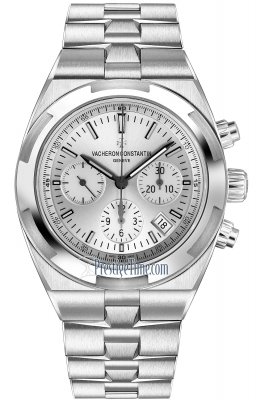 BRAND MESSAGE: Vacheron Constantin has a different angle where they make their brand shine and that is the fact that they are a very historically significant brand that dates back to the mid-1700s. It pushes the idea of longevity and dependability but from a watchmaking historian's point of view. "Crafting Eternity Since 1755" is their slogan. Another message they send is their savoir-faire. They're watchmaking experts of the highest caliber (pun intended).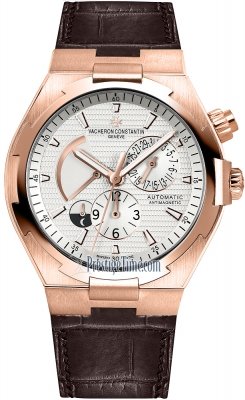 RESALE VALUE: Is Vacheron Constantin a good investment? For the record, a watch, like any consumer product, should not ever be looked at as any form of investment. Investments are designed to increase in value whereas a consumer product is designed to decrease in value once used. That said, there are some brands that on average hold a higher percentage of their original value compared to others. A Vacheron Constantin watch holds its value very well compared to most brands. However, on average, Rolex and Patek Philippe both will usually fetch a higher percentage of your principal investment. Of course, when it comes to resale value, you can't paint a brand with a broad brush.
It will always depend on the watch itself, the condition it's in, if it is still under warranty, or if it has all the original documents and other variables. The same applies to Patek Philippe. A standard Calatrava model, for example, won't fetch as much as some other models.
PRICE: Another popular question is "What is the cheapest Vacheron Constantin?". Firstly, 'cheap' is no way to describe a Vacheron, but the most affordable new model is a ladies model called the 1972 Cambree and it sells at an MSRP of around $13,600. The least expensive Vacheron Constantine watch for men is a model from the Patrimony Grande Taille 40mm collection. It retails at around $19,200, however, you can save up to 40% on select Vacheron Constantin watches on our site.
Click here to read a review about a gorgeous Patek Philippe watch
Click here to read a review of a stunning Vacheron Constantin watch
If you enjoyed this comparison and feel that others would enjoy it too, please like and share it. Thanks!