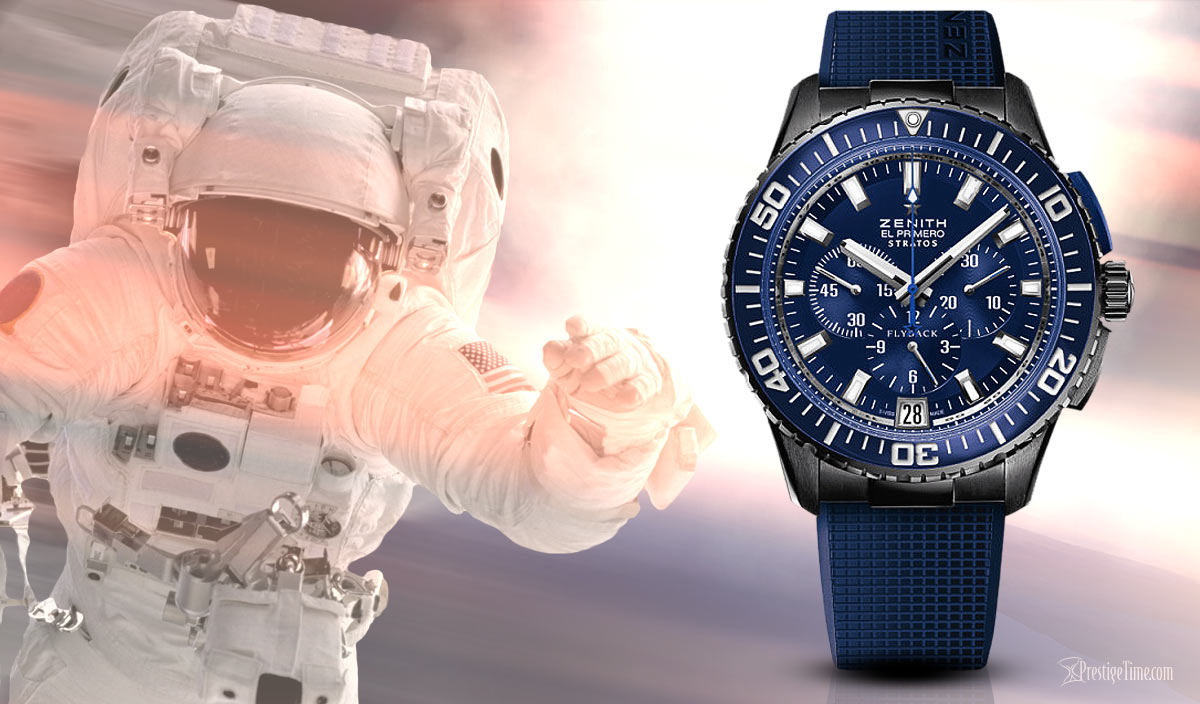 Zenith El Primero Stratos Review
There's a first time for everything including falling from the edge of space faster than the speed of sound and coming out unscathed.
Tensions are building as the whole world is watching Fearless Felix Baumgartner, a daredevil from Saltzburg, Austria. He is dressed in an astronaut suit and is soaring at over three times the altitude of a commercial airliner in preparation for an epic leap. This Red Bull-sponsored mission is everything that a Red Bull mission should be; a high-octane, high-intensity mission that excites the brain, gets your heart pumping and the blood surging through your veins.
As if struggling with claustrophobia wasn't enough of a challenge for this young daredevil, he is crammed into a tight spacesuit and stuck in a tiny space aboard a stratospheric balloon 39 km above the ground. Felix Baumgartner is preparing to exit a small vessel at the very fringe of our planet, a vessel that has the Zenith watch logo printed on the spacecraft's escape hatch. Millions of people across the globe had their eyes peeled on what was about to happen at the very place where the edge of our earth and the edge of space kiss each other.
This brave man is about to jump out of a stratospheric balloon from twenty-four miles above the earth's surface in anticipation to be the first human being to ever break the speed of sound during a 126,720-foot free fall.
There was no way of knowing how this would end. It's moments like these, where humans take a leap of faith and blindly go where no man had gone before. They go to that place where science and fear collide in an effort to make a quantum leap in understanding our very limitations as mortal beings.
Felix began to activate the suit and chest pack cameras to document this epic event. He is then instructed to detach the oxygen hose from his suit in order to untether himself from the vessel. He opens the door of the stratospheric balloon and gazes outside at a sight he would never forget. He is then instructed to remove his seatbelt and step out onto the outer step of the craft.

In a state of awe he says: "I wish you can see what I can see….Sometime, you have to be up pretty high… to understand how small you are."  After a heroic salute he says: "I'm going home now!" and with these last brave words, jumps from the vessel.
No amount of training and preparation, mental or physical could really get one ready for the feeling of jumping from that high.
The whole world gasped and then held their breath for what seemed like an eternity as they watched him speeding through our stratosphere and troposphere at record-breaking speeds for any human, a speed that can tear at the very fibers of our existence when breaking the sound barrier of 761mph.
The dials are showing a top speed of about 845 miles per hour and Baumgartner feeling his own limitations is starting to sound harder and harder to understand. Possibly a side effect of the Mach 1.2 speed he just passed or the crushing pressure of the G-force on his chest as he rips through the air.
With his heart rate now accelerated and his stress level rising, there was only one thing about this unprecedented mission that was calm and collected from start to finish, his Zenith El Primero Stratos. It didn't even break a sweat.
In tribute to Felix Baumgartner for his bravery on this most heroic mission, and in celebration of being the first watch to ever break the sound barrier in a near-space environment. Zenith manufactured an El Primero Stratos which featured a case back with an embossed Stratos mission logo and of course the world-famous El-Primero chronograph stop/watch with the flyback function.
The watches feature a 31 jewel, Caliber 4057 B movement beating at 36,000 vph with a minimum 50-hour power reserve comprised of 326 components. The watch is available on a rubber strap (Model #: 03.2062.4057/69.r515) as well as a version with a leather strap (Model #: 03.2062.4057/69.c714)